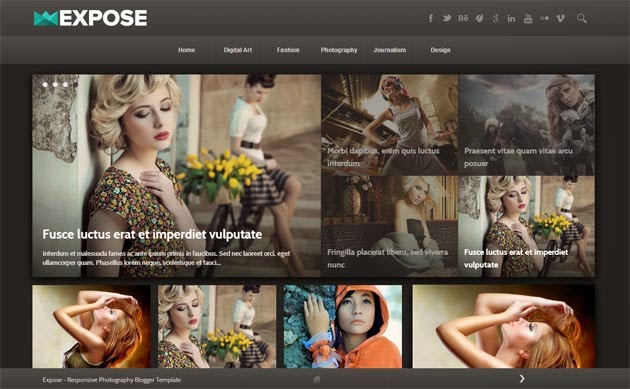 Expose is a blogger theme with responsive layout and it's High User Friendly Blogger Template. It's design simple and clean, perfect for a variety of purposes, although focused towards Photographers and those using Portfolios to display their past and present work collections.
Requirement: You need to save your own image on Blogger rather than do hotlinking from the various sources to run this template.
Features of Expose Responsive Blogger Template :
Fully Responsive Design
Auto resize thumbnail image
Responsive Flexslider
Well Documentation
Threaded Comment
Optimize SEO
Custom Error 404 Page
Light Box Effect
2 Comment System (Blogger, Facebook)
Compatible with major browsers (IE8+,Mozilla,Chrome,Safari)
Professional admin layout, help you easy work with blog layout.
Template Customization Instructions:

Setup slider :
To add images to slider you need to include " Feature " label into your blogger post.
Facebook like box & Google+ box :
To Edit your Facebook like box Follow this:
1. On Blogger Dashbord Click Template
2. Click Edit HTML
3. Scroll down and Find this Code :
<div 

class

='fb-like-box' data-colorscheme='light' data-header='

false

' data-height='

350

px' data-href='http:

//www.facebook.com/themexpose' 

data-show-border='false' data-show-faces='true' data-stream='false' data-width='400px'/>
</div>
Now Replace Green color Facebook page url with your facebook page url.
To Edit your Google+ box Follow this:
Find this code :
<div 

class

='wc-gplusmod'><div 

class

='g-plus' data-action='followers' data-height='

300

' data-href='https:

//plus.google.com/+ThemeXpose'

 data-source='blogger:blog:followers' data-width='400'> </div> </div> 
</div>
Now Replace Green color Google+ page url with your Google+ page url.
Download | Preview